This post is written by a third party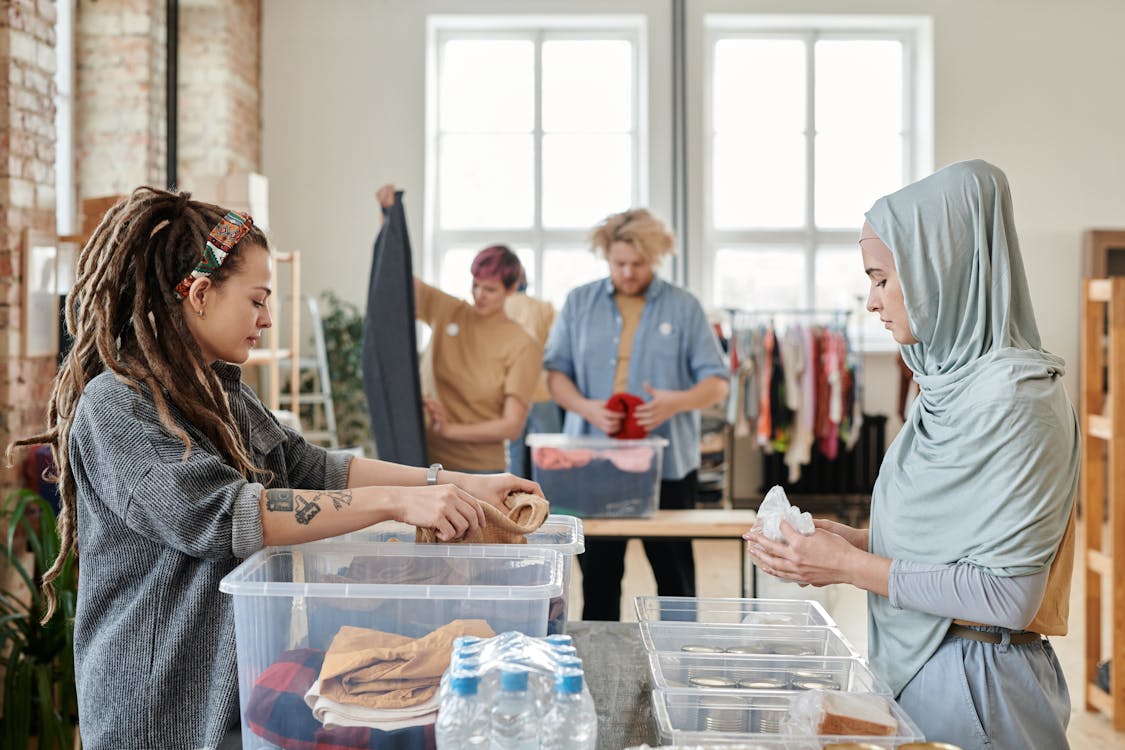 If you'd like to reduce the environmental impact of your shopping habits there are a few tactics you can try. It's all about changing your mentality and your habits, and you can also enjoy discovering new sustainable brands and designers. There's plenty of choice nowadays with many eco-conscious brands releasing new collections. Shopping sustainably doesn't have to break the bank either, in fact it's mostly easier on your wallet. You could opt for plenty of second-hand items and even get creative. Why not encourage your friends to do the same? Here are fifteen simple ways to shop more sustainably.
Research sustainable brands
Find out more about the best sustainable brands and check out their latest collections. Do your research and discover what exactly makes them sustainable, whether it's using locally-sourced materials, ethical trade, or supporting the local community or environment. Social media is a great resource and you can find out about the causes each brand supports and how. You can also read online reviews to learn more about sustainable brands. Look up local designers as well while you're at it as it's much better for the environment to support local businesses.
Take a more minimal approach
One of the most sustainable ways to shop is with a minimalistic approach. Always be mindful of your purchases and think twice before you buy something. A trick is to simply pause and try to picture yourself wearing or using the item. If you can't imagine yourself getting much out of it then it's probably not worth wasting the carbon emissions, and money of course. If you change your shopping habits, you can treat yourself to better quality items less frequently. It's more eco-friendly to opt for long-lasting items than cheaper clothes that you'll only be able to wear a handful of times.
Build a capsule wardrobe
If you're looking for an easy method to be minimal, you could try the capsule wardrobe trend. The idea essentially is that only keep a bare minimum of pieces that can all be mixed and matched together. If you start with a simple clearout, following this approach, you'll find you probably only have a small number of items that fall into this category and many more items you hardly wear. You can then consider this every time you go shopping. You can ask yourself questions such as: How versatile is the new item you're interested in compared to the rest of your wardrobe? Here are a few more tips on how to build a capsule wardrobe.
Invest in handmade accessories
As well as focusing on sustainability when you buy your clothes, it's also important to take the same approach to shopping for accessories. Look into sustainable brands that offer handmade items such as this range of Polarised Sunglasses. These are made by leading artisans from plant-based acetate which is both 100% recycled and biodegradable. You could also consider supporting local designers. Rather than buying mass produced accessories, check out local markets and independent stores.
Find alternatives to shopping
Sometimes it might be better just to take your mind off shopping altogether. If you're considering a splurge, try to replace retail therapy with another self-care activity. This could be exercise, meditation, or doing something creative. Learn to get satisfaction and stress relief from hobbies that are more environmentally-friendly and when you do treat yourself from time to time, it'll seem much more worthwhile.
Give something back
One activity you could try instead of shopping is volunteering. Giving something back to the community can be very rewarding. It's also beneficial for your mental wellbeing and helps boost self-esteem. You can easily find volunteer opportunities online. Alternatively, if you don't have time to volunteer you could always look for brands that make a charitable contribution. This way you can buy their products guilt-free, knowing that a percentage of their profits go to help support a good cause.
Take care of your clothes
One way to shop sustainably is to develop a zero-waste attitude. If you take better care of the clothes you buy, for example, they'll last longer and you won't have to shop as often. The best thing to do is to always read the label. This way you can ensure you're doing what's right according to the fabric. If it says hand wash, avoid putting the item in the washing machine. Take care to wash and dry your clothes thoroughly and use the right products.
Wash your clothes sustainably
There are also ways to wash your clothes more sustainably. If your washing machine has an eco function, opt for this. Turn the temperature down and use eco-friendly detergent. You may also want to think twice about washing certain items. If you've only worn them once, they might not need it, and you can avoid wasting water and energy. Here are the essential steps to a sustainable laundry routine.
Rent clothes instead
There is actually a new trend of renting clothes rather than buying. This is ideal if you're perhaps looking for a new dress for a wedding you'll probably only wear once, for instance. You can even rent accessories to match. Fashion rental is taking the US by storm and there are plenty of stores opening up in the UK and the rest of the world as well. Check out the best rental fashion sites around at the moment and see what they have to offer.
Opt for second-hand items
Another more sustainable alternative to buying clothes new is to opt for second-hand items. Charity shops, for example, often have great collections. Many people donate clothes they've hardly ever worn so you can find items in a perfectly good condition for next to nothing. What's more, all proceeds go to charity. You can also avoid the emissions caused by the manufacturing and transportation of new clothes. If you have a knack for fashion, you can put together amazing ensembles by combining or upcycling quirky items from charity shops and create a much more original look than you could by shopping in high street stores.
Check out vintage stores
Vintage is also technically second-hand, but pieces tend to be older. Shopping for vintage is an environmentally-friendly option as you are still doing your bit to reduce emissions. You could check out the best online vintage stores or local vintage markets near you. Vintage clothing and accessories help to create a timeless look and you can find some truly unique pieces. Look for the items that match your personality and style.
Upcycle your own creations
If you're the creative type, you could even try upcycling second-hand or old clothing. This is essentially the concept of repurposing items or recycling materials in order to make something new. You could use old fabrics to transform accessories, for example, or even create new pieces. If you're not a fan of sewing, you could also take your designs to a tailor. Here's a complete guide on how to upcycle clothing. You can also find upcycled creations online as certain designers work with recycled materials.
Organise a swap shop with friends
A simpler alternative to making your own clothes is to host a fabulous clothes swap party. These can be a lot of fun and they give everyone the opportunity to get rid of the clothes they never wear and swap them for something new. You could arrange a swap shop with your friends and make a night of it. There may also be similar events in your local community so look out for these. If you look for more sustainable alternatives to shopping on the high street, when you do treat yourself to something new it'll be much more rewarding and you'll have a little extra money to spend.
Support local businesses
One sustainable way to shop is to support local businesses. It's even better if you can find a brand that uses locally-sourced materials. Just by shopping locally you're already reducing your own carbon footprint. There are also many other reasons to support local businesses. They're essential to the economic and social fabric of society. They also support the local community, providing jobs and inspiring entrepreneurship. In the majority of cases, smaller businesses have a shorter manufacturer to customer journey making them a more sustainable choice. The customer experience also tends to be friendlier and more satisfying.
Lead by example
If you've discovered new ways to shop more sustainably, why not encourage others to do the same? You could start by recommending your favourite vintage shops or sustainable brands. You could even host a swap shop or an upcycling party. There are several fun ways you can motivate people towards sustainability. The main thing is to teach your friends that shopping sustainably is easy and enjoyable and can even save you money. You can always alternate between charity shops and designer brands, and with a little creativity you can put together a more original look. Treat yourselves by checking out local artisans or designers with a focus on sustainable luxury as well.
This post is written by a third party